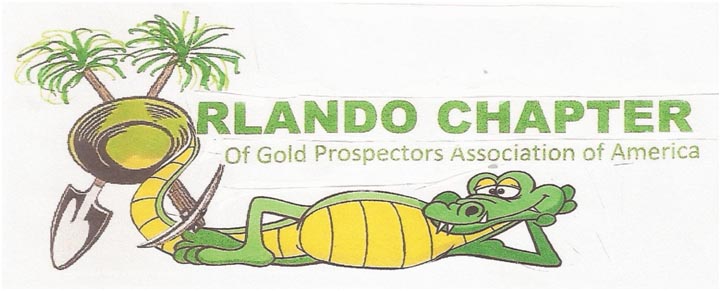 Current Issue
April 2017 Newsletter Editor Janice Bosscher, Secretary of Orlando Chapter of G.P.A.A.


What a busy month for our chapter! But it was all covered in our chapter meeting minutes:
April 8, 2017, Warren Park in Orlando, FL Chapter Meetings minutes
Chris called the meeting to order at 10:10 am. Chris mentioned that Les P.s sister passed away, and to please remember Les and Ann P. in your thoughts and prayers.
April 1 was our fossil hunt…no fooling! 8 members assembled at the Peace River in Wauchulla. Woody showed some of his finds. Everyone had a good time…myself included….I even got in the water!
The biggest discussion was on the upcoming "dig" on April 28 and 29 at Lucky Strike at Vein Mountain in Marion, N. C. $50 per active participant is asked for today, or if not attending this meeting, please let us know. We also need to know if you will be camping or not, in order to reserve spaces. (Camping fees are discounted with a group and the fee depends on the number of campers.) We are also collecting, up at camp, $25.00 each person (participant and non-participant) for food. This includes five meals and you are responsible for your main course grill able for Saturday night. Steve M. has set up a fantastic menu. At Sunday morning breakfast the gold will be divided and distributed. The following page was given to members at this meeting by the events committee. Many hours were spent "redesigning" our outings protocol by Steve M, events chair, Chris M and the committee. Please read this over and the notes will continue.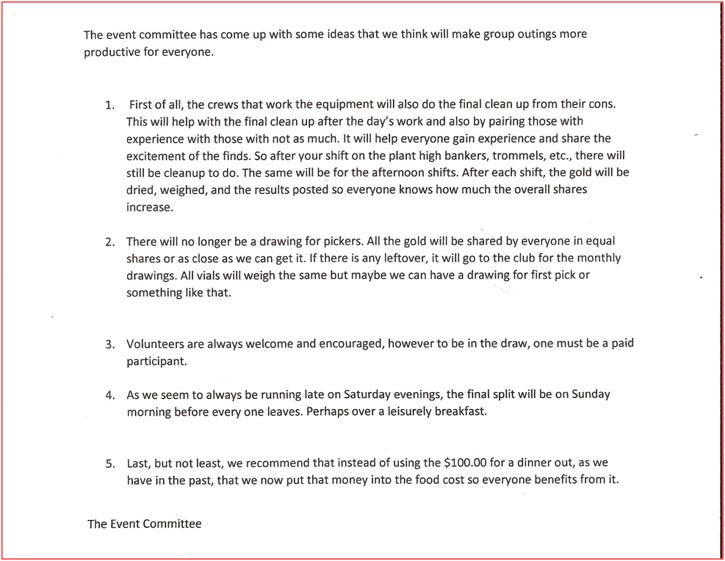 All the items on this sheet were discussed, voted on and approved. Please note that the biggest difference is your team doing digging to clean up and drying of gold. The shifts are 9am to 1pm and 1pm to 5pm The weights will be recorded on a community board as they come in. Right now we have 10 paid people,3 cubes available Friday and Saturday 2 cubes as well as 3 scales.. If you cannot be at the Sunday morning breakfast for your draw…you must designate someone to pick it up for you.
Steve and Les are going up the 23rd and 24th to check out Thermal City. They need at least 3-4 people total to help run the Trommel for $120.00 rental.
Debbie C. is interested in going to the Garnet mine on Thursday afternoon.
The meeting was adjourned at 11:00 am with Woody winning the raffle. (Because I held his tickets.!)