Club Promotion, August '15 - KellyCo 60th Celebration, FL.

Saturday - August 1, 2015.

KellyCo 60th Celebration - One week after the chapters Metal Detecting Outing, we headed over to Kelly Co to promote the GPAA, help them out by doing panning and equipment demonstrations. We also got to enjoy their 60th anniversary celebration.


Members began arriving at 8:30am to set up our booth. Within our 10' x 10' we had a panning area, and gold cube display. On the grass near the booth we showed off an older highbanker and more modern sluice.

As the 700+ attendees began arriving, we started our demonstrations. For panning, Bob and Warren were showing attendees how, and then if they wanted to would try it out. The range of skill attendees showed was varied, and everyone was able to successfully pan the little picker we were using. Eddie and Terry handled demos of the Gold Cube. Typical 1/8 concentrate containing some golden colored lead pieces were used for the demos. After several scoops were put through, attendees saw how it concentrated the gold in the upper section, with all the lighter material passing through.

Attendees were able to get every question about gold prospecting, and the GPAA answered. Our Members were seen all day long talking with them as the Demonstrations were going on. With a good 18 members present, everyone also had time to enjoy the rest of the party.


Chapter Booth promoting the GPAA.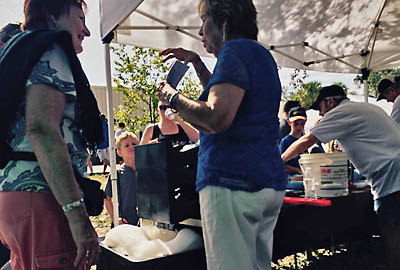 KellyCo's new showroom packed with attendees.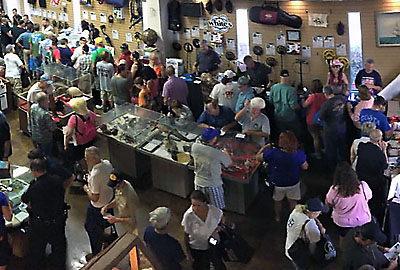 Kelly Co was able to bring together all the major manufacturers of Metal Detectors to their main office. Also represented were metal detecting clubs within a 150+ mile radius. Stars of the Diggers TV show, and Youtube's Silver Slinger were here also. For most of the day there was a line inside KellyCo's new showroom where attendees would make their way past each Manufacturing Rep, the Silver Slingers, and finally to the Digger's. While this line seemed to hold up the inside activities a bit, there was plenty to see. Encased artifacts from Florida shipwrecks abound, and the highlight was part of the recent 1.1 million dollar 1715 Fleet finds. Gold Escudos and Silver Reales along with gold chains were displayed, and for the adventurous ones, you could try picking up an 80lb bar of silver from the Atocha wreck.

Throughout the day the KellyCo, the manufacturing reps, and clubs were giving away prizes to lucky winners. Two of our members, Liam and Mike had a bit of luck.

Below are a few additional photographs from the days event.


Attendees staying cool and waiting for raffle results.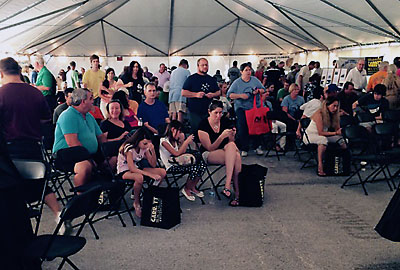 KellyCo's new showroom with artifact displays.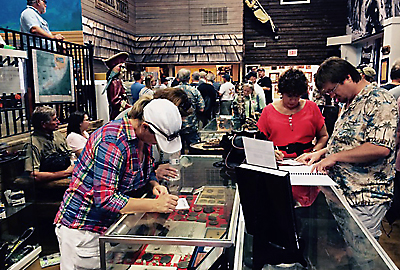 Attendees surround the new display cases.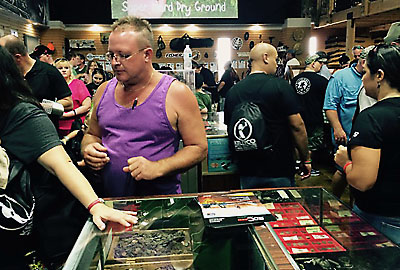 Bob about to give birth after lifting the 80lb bar of silver.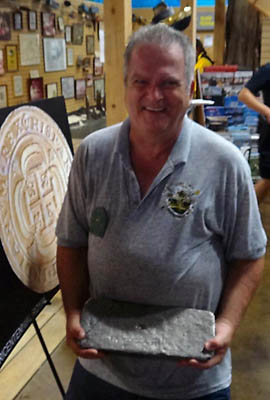 Eddie, Warren, Bob and Dave after the rains began.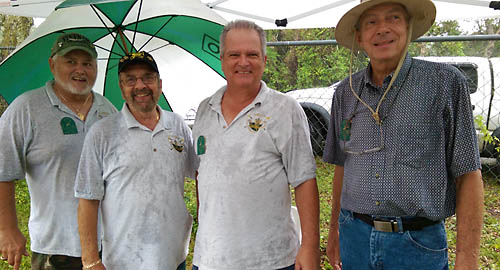 Here's a Link to Kelly Co's
Recap Video
on Youtube. If you look close several of our members are seen as is the Booth Our Chapter set up for the event.