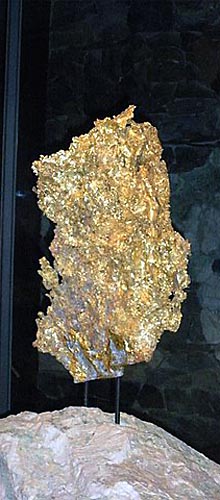 44 lb Nugget on display at the
Iron Stone Winery, CA
Photo - Rea-Lynn and Tom
What's New !
Oct, 2016 -
Lucky Strike
twice in one month!
May, 2016 - Members spend a fun filled weekend at
Loud Mine
.
May, 2016 - Off to the
Weekender's
property in Georgia a bit of Dredging !
Apr, 2016 -
Lucky Strike
again!
Aug, 2015 - We spend the day promoting the GPAA over at
KellyCo's 60th Celebration
.
July, 2015 - The chapter headed over to Sun Splash Park for a bit of
Metal Detecting
.
Fossils 2015... Did the
Peace River
provide us some Fossils?, Mar. 2015.
Ever wonder who is the best
Metal Detector
in our chapter, Nov. 2013.
Jacksonville
Gold Show
, Sept. 2013.
Directions Page to
Warren Park
... Plus all the directions pages will now show the current weather conditions at each location.
So you think you know Gold... Check out the
Gold Facts
Page. I bet there is something there that will surprise you.
Remember to check out the
Trading Post
. You never know when a great deal might show up.