Gold Show, Oct '08, Gainesville, GA.
Several members made it to this October's Gold Show in Gainesville, GA. Club members Cathy and Steve manned the Chapter's booth. Their Gold Panning Experience items did well as we all did our part to inform others about our Florida's chapter. We met several people from Florida which we hope to see at future meetings.
View a special message from Tom to all of us here in Orlando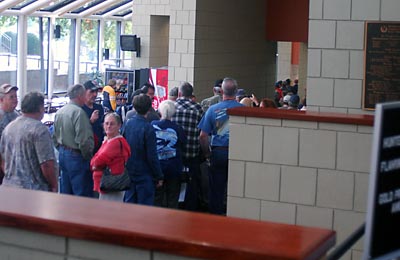 Saturday's line to get in.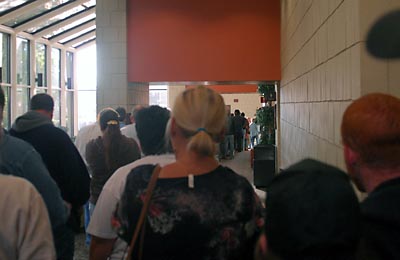 Which even after 20 minute's didn't seem to end... So much for being on of the first 100 for free gold. :)

Saturday had the most people attending the event. It seems like every booth had people lined up to ask questions, and buy merchandise, but as the day wore on this action subsided a bit. Several seminars were scheduled each day, from "General Prospecting" by Tom Massie to "Mineral Formations to look for when Nugget Hunting" and "Use of Metal Detectors when detecting gold" by Minelab Rep's, and "Gold in Alaska" what to expect up at the Summer's Cripple Creek GPAA outing.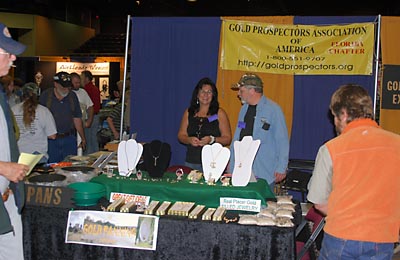 Kathy and Steve at the Club's Booth.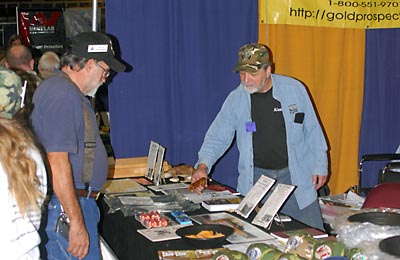 Here's Steve talking with a customer.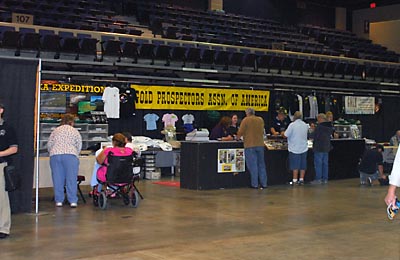 The GPAA/LDMA Main booth - Everything you ever would want.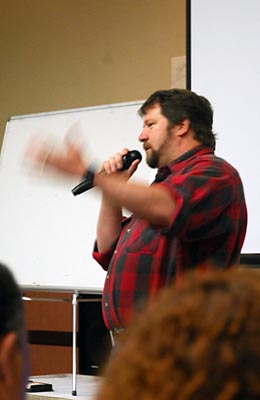 Tom Massie giving Saturday's Lecture.
When asked about Perry, he told us he's really retired, enjoying his family and playing golf.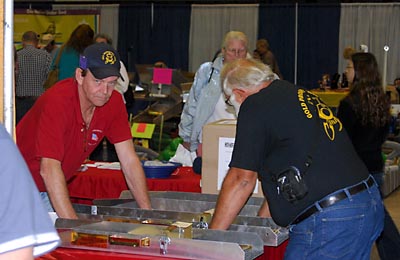 Ken checking out some sluces.

The highlight of the outing was at the close of Saturday when Tom Massie came by the booth for a photograph with the Club, and to give us all a few tips on prospecting on the east coast. I'd like to thank him on the club's behalf since he must of had a exhausting day. It looked to me he never had a free moment, as the line to meet him was never less than 30 deep. Tom told us he spent a week or so filming, so look for a new East Coast show soon.

Stay tuned, for Gold Show highlights as on Sunday Tom taped an interview with our very own Kathy as she talked about and displayed her necklace designs that show off fine gold and small nuggets.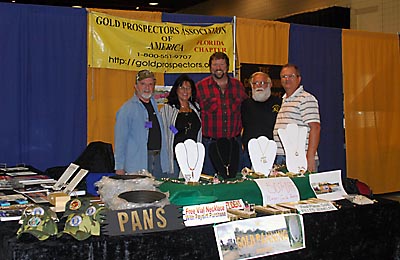 Tom Meets with the club.
(R-L) Steve, Kathy, Tom Massie, Ken and Bob.
View a message from Tom to all of us here in Orlando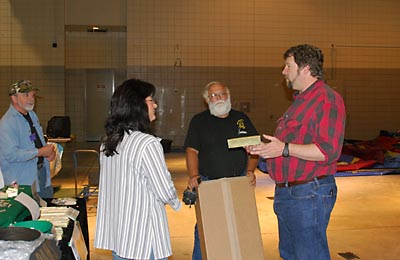 Tom giving us some extra tips.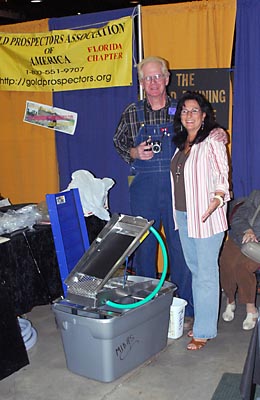 Woot
... Kathy wins a
Midas
Self-contained Recirculation System on Sunday's drawing.
( Her scream of delight was heard for miles... )