Gold Show, Oct '10, Gainesville, GA

Another year of summer prospecting has come to past, and our clubs visit to the 2010 Gold Show in Gainesville, GA kind of marks the end of 2010. Or, Maybe the beginning. Several club members made the trip this year to the show to help out at the chapter's booth, talking up our Orlando chapter's uniqueness. One question we always here is; Where do we go prospecting in Florida?

Thanks Bob for sharing some photo's and Steve for taking many of them. As every year at the Gold Show, we had several people from Florida stop by the booth which we hope to see at future meetings.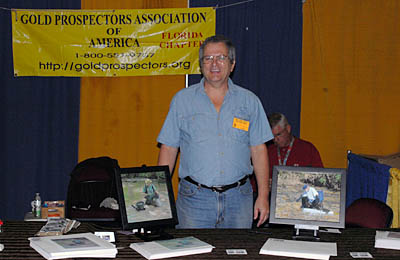 Bob at the GPAA booth ready to go.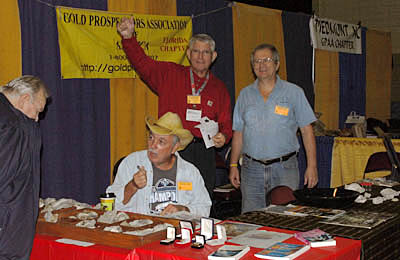 Tommy discussing the clams. Mike and Bob behind.

This year's show seemed to have a few more people attending then 2009, with Saturday having the most people attending the event.
Several seminars were scheduled each day, from "General Prospecting" by Tom Massie, "Metal Detecting for gold", and Alaska, which Tom Massie also gave. This year Cindy was also on hand fielding questions and helping out at the main GPAA booth.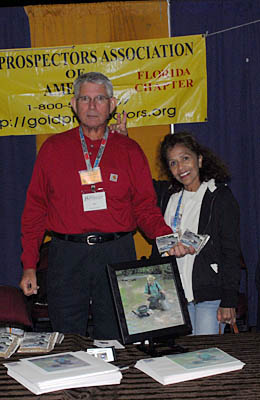 Mike and Connie.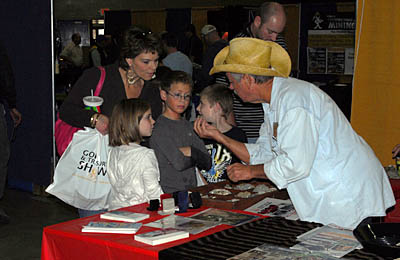 Tommy showing one of the better ones.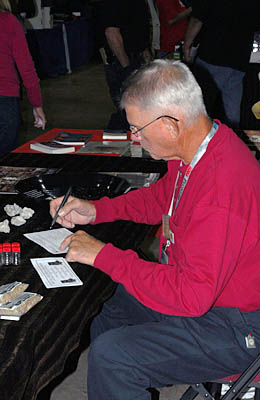 Mike filling out the raffle forms.
Bob, Steve and Tommy were on there own
Gold Show Adventure
this weekend also while attending the Gold Show. Traveling on Thursday, and staying through until Monday they planned on trying out some new ideas, and equipment. All the other members headed back to Florida on Sunday.
As with every show club members wait on the main raffles at the end of each day. Would this year continue our clubs winning streak?
Earlier on Saturday a fellow Floridian from the new Stark chapter took home the infamous Copper Gold Pan for winning the Speed Panning Contest in just over 14 seconds.
Well Saturday proved to be Florida's day as our Bob had the winning number for the Grand Prize, the trip for 2 weeks to Nome Alaska. A bit of excitement followed for sure. Woot, Our Chapter did it again...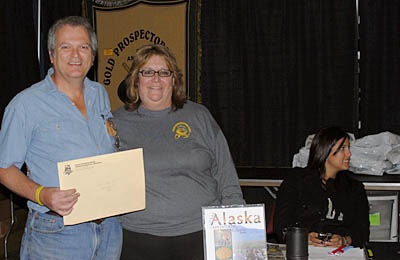 Bob holding that magic envelope with Nancy at the GPAA Booth.
Yes... Saturdays Grand Prize.
He's off to Nome Alaska in 2011... Congratulations Bob.

This marks three years running that our chapter has won a major prize at the show. Can't wait till next year in North Carolina to keep the streak going...